Stadler children's home "Egypt"
Stadler children's home "Egypt"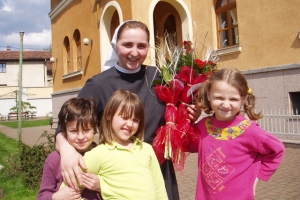 Dear friends! Thank you for shoving interest for activities of our Community Sisters Servants of Infant Jesus in Sarajevo, and the chance of getting some help from you for our Charitable work.

This home for children without parents was founded 113 years ago. The founder of this Home, Archbishop Josip Stadler, did not want it to be called orphanage since there must not be orphans in Christian community- Children may be parentless, but never friendless and benefactors. A loved child is not orphan. Nobody likes to be an orphan, nor do they like to live in a place called orphanage, so the Home was named Egypt in memory of Jesus' refuge in Egypt (Mt 2, 13). For every child in danger of losing life or being lost in life, there ought to be on Egypt offering refuge. This is how our Home got its name.
Guided by this love for children, we, the nuns of the Order of Sisters Servants of Infant Jesus, take care of children in trouble. We can divide our care for children in three categories:
Full care for children without parents and extended families. We raise them in our Home and school them till they are eighteen years old. At the moment, we care for thirty five children of this category.
Care on daily basis for children from families with grave problems such as inadequate or no housing, low or no income, sick parents, etc. At the moment we have fifty of those children. They come to our Home every day, study, eat rest, and play.
Temporary relief to families that are not able to earn money for food, school supplies, medication care, etc. We try to find good people who can and is willing to help. Thus, our home is a bridge where CHILDREN OF GOD meet and help one another with their needs. So far in this way we have helped more than three hundred families.
If you find it worthwhile to join us in our charitable work in Bosnia and Herzegovina, and give your contribution, you will make many poor and us happy and very grateful.
On behalf of children and Nuns of Stadler Children's Home I send you many greetings, asking our Heavenly Father to bless you and your families.

From the beginning, Stadler's institution has been promoting genuine human values, serving the greater good, and resisting everything that stands against human dignity.

Egipat had suffered all sorts of depredations during the First and Second World Wars, as well as during the most recent bloodshed. However, LOVE toward God and Humanity has persevered. It always rebuilds anew and repairs what has been destroyed.

While working with the children, the Sisters try, with charismatic zeal, to strengthen their Christian way of life, while using contemporary educational methods. They strive to establish a normal family environment, which helps to heal the wounds and promotes the growth of human beings on a physical, mental and spiritual level. From early years, the children spend time with others their own age in the kindergarten Srce (Heart), which functions within Egipat, but is open to children from families living in the city. Here, relative to their age, the children take the first steps at socializing and cooperating with others through games and other activities.
The home Egipat is truly a home of God's providential benevolence. Indeed, thanks to the helping hand of human goodness, the Sisters are able to provide the children with a warm home, an environment as close as possible to family life, fun, schooling, friendship, excursions, health care, joy in growing up, and helpful insights that enrich life.

Perhaps you too would be glad to participate in God's providence for the children growing up in Stradler's institution. We believe, that are dear to God all those who contribute to the improvement of the quality of life of a human being, especially a helpless child.

"Just as the Holy Virgin Mary fed Jesus in Bethlehem, fled to Egypt with Him, and protected Him from evil, you, Sisters, in the same way nourish the children with all that is good. Protect them from everything that could harm them," the Founder used to say to the sisters.
EGIPAT'S TIMELINE
1890. Archbishop Stadler establishes congregation of Sisters Servants of the Infant Jesus.
1899. Purchases home on Bjelave Street for children in danger and names it Egipat, in remembrance of Jesus flight and shelter in Egypt.
1899. Sisters move from Mjedenica Street to Egipat on Bjelave Street.
1926. Decision is made to build new Egipat.
1929. Blessing of remodeled Egipat. In it more than 10,000 children have found shelter.
1949. Children taken by communist regime. Sisters banished from Egipat and banned from public activities.
1996. Servants of the Infant Jesus return to neglected and war-destroyed Egipat.

Holy Mass is celebrated and work starts on renovation of Egipat. 1999 Stradler's Children Home Egipat once again receives and protects Children in need.
Galerija slika:
Stadlerov dječji "Egipat" - Sve